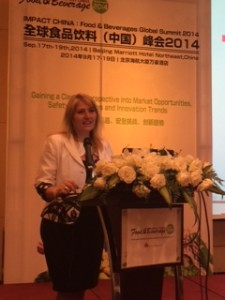 I have just returned from the Food and Beverage Global Summit in Beijing and what an adventure it was!
Firstly it took courage for me to travel to a country I have never been before on my own and where English is not the chosen language. Not many could speak English at all.
The Chinese are a very friendly and helpful race. I was asked a few times at random if I was okay and needed any help with those who could speak a little bit of English.
The food and dining experience was very much Chinese and you really needed to understand what you were asking for or ordering. Many hand gestures / sign language was used.
It was a great experience and certainly most enjoyable. I must say I am looking forward to returning and assisting with food safety. If you have not visited China for business then  I recommend that you go.
One of my highlights whilst visiting Beijing was experiencing a new culture. I love to take on board local culture and immerse myself in it as much as possible.  I was very well looked after by the conference committee who really made me feel safe and comfortable.
During my stay I met an amazing group of food industry professionals that are very dedicated to quality and food safety. I was fortunate enough to hear many presentations and learn what global actions and movement are on the agenda regarding quality and food safety. It was a great way to calibrate our progress in Australia and benchmark against some of the world's largest food manufacturers and pharmaceutical companies.
I was thrilled to be invited to present at the Global Food Safety Initiative Conference (GFSI) next year and to write regularly in an international food safety column for the local Chinese food and beverage magazine.
The networking opportunities were fabulous and I met many potential business partners to work with making a difference and taking food safety to the next level.
Business opportunities in China are massive and certainly well worth pursuing. Not only are there successful Chinese companies but many European companies that seek premium high quality products and where food safety is lead from the Senior Executives.
If you have any questions please do not hesitate contacting myself on dijana.green@elevatingfoodsafety.com or call me on 0401 700 391.
Yours in Great Spirit Dijana Green – Founder and CEO Elevating Food Safety Pty Ltd