Who Else Wants To Work With A Company Who Loves What They Do And Genuinely Cares For Their Clients And The Safety Of Others?
Are you ready to take your food safety to the next level?
Would you like to work with a company already with a massive list of success stories?
Do you really want to work with someone committed to making a difference?
My name is Dijana Green and maybe it is about time you stopped shopping around and called Australia's leading experts in food safety.
Elevating Food Safety works with:
Manufacturers
Retailers
QSR
Food service sector
Restaurants
Caterers
Pest controllers
Warehouse and distribution networks
Join our list of clients who are privately owned businesses or multisite corporate organisations.
Whether you are looking for work that varies from implementing systems, providing quality professionals, provide quality and food safety leadership, developing quality strategic plans to assisting with the recruitment process, then we can assure you that you are in the right place.
Elevating Food Safety documents and delivers training programs covering all your quality and food safety needs, providing you with something that is interactive and business specific. Most of the training we conduct is delivered on site and we conduct site activities deepening your learning.
You receive completed retailer product specifications or internal product specifications. All artwork is signed off, international (imported) products are checked and reports issued highlighting the labeling changes required, you are provided with nutritional information and NIPs for your products.
Even if you are bursting at the seams needing to move to a bigger facility, or if you have an idea to manufacture a product commercially, together we help make your dream come true.
We are extremely excited about some of our achievements!
Would you like to join the list of benchmarks which we have helped others achieve?
Consolidate fragmented quality and food safety systems
Remove complexities managing quality and food safety business systems
Pass 3rd party global certification audits (such as HACCP, ISO, BRC & SQF)
Pass internal global quality and food safety audits
Obtain more sales and produce greater volume by starting to supply retailers or other new customers
Reduce operational and overhead costs
Restored broken relationships with retailers
Successfully delivered product launches
Pass manufacturing customers audits (such as Goodman Fielder, Kelloggs & Sanitarium)
Upskill and further develop associates
Restructure quality and food safety leadership teams
Prevented plant shutdowns
Complete root cause investigations
Improve Good Manufacturing Practices
Reduce consumer complaints
Reduced foreign object and allergen hazards
Upgrade facilities and successful new plant start ups
Implement process controls and reduce waste
Food safety validation and verification activities completed successfully
We pride ourselves on our core operating values;

Provide practical, logical & realistic solutions
Take ownership
Lead by example
Vary delivery to suite customer
Promote food safety disciplines
Be professional
Be proactive and preventive

Share ideas and ask for ideas
Communicate with each other
Listen to each other
Embrace change
Support each other
Enjoy what we do
Raise awareness and educate
Utilise expertise

Respond to work requests on time, every time
Hit deadlines, every time
Just do it
Have a can do attitude
Have energy & re-energise
Drive the process
Keep focused

Be confident
Encourage others
Set the standard
Don't accept 2nd best
Continue to grow and develop
Take immediate action
Quality, quality
Continuous improvement
Our delivery is based on our simple core business philosophy;
The 3 S's:
Service
Support
Systems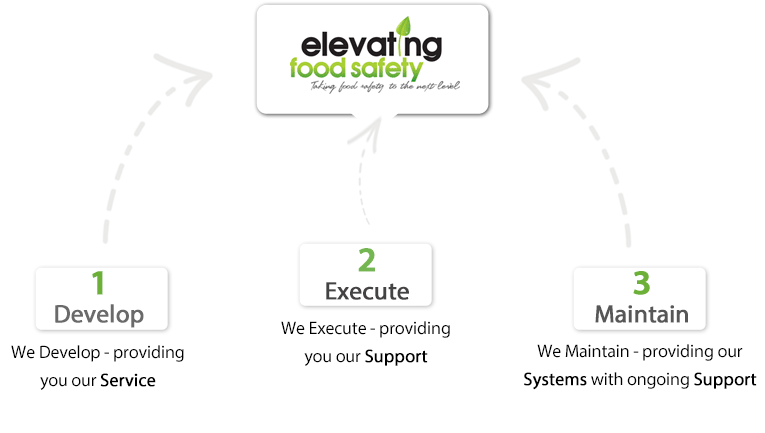 Our strategy is to provide practical, logical and realistic solutions.
To discover more about Elevating Food Safety, download our Company Brochures: